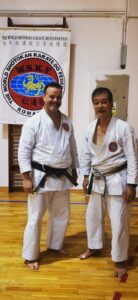 Shinobi Sports Club Association was founded in 2010, being a polysports organization, non-profit and has as main purpose the promotion of the main sports activities in the karate and spochan sports branches, but also those of tourist orientation, yachting and has as objectives besides the promotion of these branches of sport and their practice by its members, initiating and training athletes at amateur level and sports performance in these fields, as well as their participation in domestic and international sports competitions, technical seminars organized at national and international level led by the true masters of martial arts.
Shinobi Sports Club Association has in its technical staff coaches and instructors with an experience of over 30 years of practice, are internationally certified, qualified at the National Center for Training and Improvement of Coaches in Bucharest, we are affiliated to the Romanian Karate Federation since its establishment and we carry out our activity exclusively in Bucharest.
Our main activity is the practice of Karate-Do, shotokan style being an active member of W.S.K.F. (World Karate-Do Federation) and more recently of I.S.C.A. (International Sports Chanbara Association) where we have obtained outstanding performance and results at national and international competitions.
The constant practice of sports activities, movement in general, brings huge benefits to the body such as: increasing immunity, maintaining weight at a normal level, reducing the risk of mental illness, maintaining a healthy heart, improving the general physical condition, increasing concentration and attention and last but not least increasing self-confidence!
The sports activities carried out within our club are mainly intended for children and adolescents, but also for adults who want to develop personally by acquiring specific morphic skills and qualities, socialization and communication.
Karate-Do – It is a way of perfecting the character!
In these times we need to learn the techniques of harmonization, not conflicts!
We are waiting for you at DOJO!
Sincerely,
President of SHINOBI ACS,
Coach Dragos UNGUREANU
4 dan Karate WSKF
3 DAN SpoChan I.S.C.A.