Dragos Ungureanu – How did it start?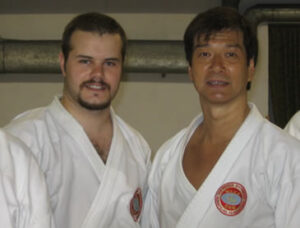 We started practicing Karate, together with a good high school colleague (Adrian Zecheru), in 1988 under the guidance of Sensei Mihai Ioghen and Sensei Matei Cristian, in more than Spartan conditions, carrying out our activity through various gyms and / . or parks in isolated locations, under the "cover" of sports such as badminton, aerobics, etc …., because it was forbidden to practice martial arts in those times. We still remember the harsh conditions in which we carried out our trainings, very rough surfaces (no flooring on the floor was just concrete), unheated rooms (in winter, it was often colder than outside), the way we made our equipment (karate-gi = costume, obi = belt, gloves, etc…), the pleasure of doing something unique, without having any greeting card or any prize at the end, it was a motivation you felt, it came from within, we weren't materialists, we just had the desire to learn and to improve ourselves in what we were doing.
The first level (yellow belt-8 kyu) I obtained only in June 1989 (I started the initiation in April 1988), obviously together with Adrian with whom I trained almost every day. In 1990, the CAMO (Oriental Martial Arts Club) club was founded, which became a member of the Romanian Martial Arts Federation – the first federation of its kind in Romania after '89. There followed years of intense work and training, internships, the first international internship I participated in, in 1991, under the guidance of Sensei Arsinevici, followed by the internship with Sensei Kasuya. The competitions started, it was a "fashionable" sport, there were thousands of practiced, all these aspects provided for an explosion and an accelerated development of martial arts in Romania. Later I understood and perceived Karate (martial arts in general) that it represents more than a sport, it is a way of life with which we have merged, we martial arts practitioners.
In 1993 I participated in the Shotokan National Karate Championship; followed the years '94, '95, '96, …., 2010 – still participate in championships, but as a veteran ! In all these years, in which we obtained both the necessary experience and the official qualifications of coach, referee and examiner, we decided together with another veteran and good friend – Adrian Zecheru, to set up a karate club to offer our children, which we could not have when we engaged in this circle of martial arts practitioners, namely good training conditions, access to the latest information (technical internships with renowned coaches, publications-books/magazines, training camps where we learn to live in communion with nature and respect it, to learn respect for our fellow human beings and to proliferate the education of values in the society in which we live. Despite the fact that we were in a turbulent economic and financial period, we felt the need and we decided to create a new Shotokan Karate Club in Bucharest, a Club that bears its name, shinobi sports club Bucharest.